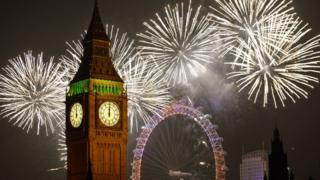 UK police forces are reviewing security plans for public events after a lorry attack in Berlin killed 12 people.
Scotland Yard and Police Scotland said they were reviewing "detailed plans" for the festive period as a precaution following the attack and the shooting of a Russian ambassador in Turkey.
Greater Manchester Police said they would also step up patrols.
Meanwhile, UK Prime Minister Theresa May has told German Chancellor Angela Merkel the UK "stands ready to assist".
A Number 10 spokesman said there were "no plans" to change the UK's security level, which currently stands at "severe", meaning a terror attack is highly likely.
A statement from Scotland Yard said it was considering a range of possible threats, including the use of large vehicles, following the "awful incidents" at the Berlin Christmas market and in the Turkish capital Ankara.
Mayor of London Sadiq Khan said he was working with police to review plans and reassure people coming into the city.
"Keeping everyone safe remains the highest priority for the Met commissioner and for me," he said. "All Londoners stand in solidarity with the people of Berlin today."
Greater Manchester Police said while there was "absolutely no information or intelligence suggesting any attack is imminent in Greater Manchester", more visible patrols would take place at almost 350 stalls across 10 sites.
Police Scotland said it had "no intelligence at this time to suggest a threat to any specific event in Scotland" but would review its "detailed plans… against the impact of incidents".
The Association of Town and City Management, which represents UK market traders, said it would shortly be advising its members to understand the potential risks and threats, brief staff and businesses to stay vigilant and make sure procedures are in place if an attack occurs.
'We can't live our lives in fear'
Visitors still came to buy their food and Christmas goods on Tuesday from similar markets across the UK to the one in Berlin that witnessed such tragedy on Monday night, writes the BBC's Lisa Wright.
Cathy Sotillo, from Canterbury, went to Birmingham's Christmas market to "express solidarity" with those in the German capital.
"We thought we would come here to express allegiance and a sense of resilience and a refusal to be cowed by the events of last night," she said.
And Martin Stand, from Harborne in Birmingham, added: "We can't live our lives in fear."
But Nicole Capescicova, from Slovakia, who was working at Manchester's Christmas market for the first time, felt nervous.
"When I heard what happened in Berlin last night I was scared about this morning," she said. "If it can happen in a country like Germany, it can happen anywhere."
Read more reaction from the UK's Christmas markets
In some UK cities, extra security measures had already been put in place – even before Monday night's attack.
At Newcastle's Christmas market, armed police were pictured – causing a debate by smiling while posing with automatic weapons.
Birmingham Christmas market also erected concrete barriers in an attempt to stop lorry attacks after a vehicle drove into crowds celebrating Bastille Day in the French city of Nice in August, according to the Mirror.
A spokesman for the National Police Chiefs' Council, which represents senior police officers, said it made sure that the activities and intelligence of the council were "under constant review to respond to threats" and any information would be shared.
BBC security correspondent Gordon Corera said the bringing together of "emotive targets" like Christmas markets and a lorry attack was difficult to plan against.
"It is harder to protect people on the streets, especially if those streets can't be closed off," he said. "But if you have got a large truck, it is even harder to stop that as it can potentially get through some of the obstacles."
He also said the relative simplicity of this sort of attack made it harder for security services to track.
"Plots that would involve people travelling to other countries to be trained, trying to get hold of explosives, trying to test or build those explosives; all of that offered opportunities for security services to spot them," he said.
"It is much harder if someone without communicating with anyone else that can be intercepted decides that they are going to carry out an attack like this, perhaps having just been inspired rather than having been in direct contact with so-called Islamic State."
'Run, hide, tell'
The National Police Chiefs' Council advised anyone caught up in an incident to:
First "Run" to a place of safety. This is a far better option than trying to surrender or negotiate
If there is nowhere to run, then "Hide". It is better to hide than confront
Remember to turn your phone to silent and turn off vibrate. Barricade yourself in if you can
Then finally, and only when it is safe to do so, "Tell" by calling police on 999
In a speech reacting to events in Berlin and Turkey, Foreign Secretary Boris Johnson said UK security and intelligence services did an "absolutely extraordinary job", but "you can never be complacent, the risk is very real".
The government has released new travel advice for going to Germany, warning about the high threat of terrorism.
They have advised travellers to avoid the Christmas market area but said the German government was increasing security at public buildings, major events, transport hubs and large public gatherings.
In a message of support, the prime minister promised Mrs Merkel Britain would help "in any way we can".
Appearing at the Liaison Committee on Tuesday, she said: "We have seen very vivid images in our newspapers and on our televisions, and I think they have shocked us all.
"I want to express our condolences [that] are with those who mourn and all those who have been affected. We hold them in our thoughts today."
But former UKIP leader Nigel Farage drew criticism when he said Mrs Merkel "ought to take responsibility for what's happened" because of her open-door immigration policy allowing refugees – many from the war in Syria – into the country.