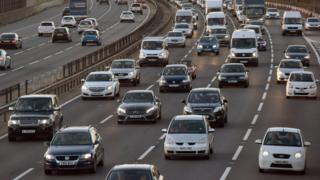 Drivers have been warned to expect the busiest day of the festive season on UK roads as the Christmas getaway combines with the end of the working week.
The AA motoring group said there are currently no major reports of incidents but estimates that conditions will get busier at about 16:00 GMT.
On the rail network, a record number of engineering works begin later.
There is also the threat of disruption in much of the UK as Storm Barbara approaches.
Traffic and weather news on the BBC
Weather
The Met Office said the worst of the weather was expected on Friday, with gusts of up to 90mph forecast in parts of Scotland.
It has issued an amber warning for northernmost Scotland to "be prepared" from midday.
Elsewhere, Storm Barbara is expected to bring severe gales and rain to the north and west of the UK.
However, Christmas Eve will see mild air sweep the country overnight and Christmas morning is expected to be very mild – reaching up to 15C.
The initial warmth is expected to give way to a spell of windy weather, with the strongest winds across the north of England and in southern Scotland.
Temperatures in the north will turn much colder later on Christmas Day and into Boxing Day morning, with the chance of blustery showers turning into snow, the Met Office said.
The Met Office has now named the weather due to hit the north of the UK on Christmas Day, as Storm Conor.
This is in line with the Met Office's alphabetical policy of naming storms when they are deemed to have the potential to cause a substantial impact in the UK or the Republic of Ireland.
Roads
The AA predicts Northern Ireland will have the busiest roads, with 55% of its members there saying they plan to drive at least 20 miles on Friday.
Wales follows with 47%, and Scotland and the north-east of England with 46%.
According to the AA, London is least likely to suffer from an early Christmas traffic surge on Friday, as only a third of its members there say they will drive 20 miles or more.
John Snowling, from the AA, said: "It's likely to be very busy at peak times on the major routes as the Christmas getaway coincides with commuter traffic.
"Check the traffic reports before you leave and try to travel when it's quieter or, if you have no choice, consider an alternative route to beat the jams."
Rail
With 200 engineering projects taking place over the Christmas period, up to 10% of the railways are due to be affected.
Most stations will be running as normal on Friday, but Network Rail has advised passengers to check before they travel.
Paddington station in London will be shut from Christmas Eve until December 29 to complete building work on the Crossrail line.
There will be no Heathrow Express services to or from the airport between 24 – 29 December.
Services are also being scaled back at stations including London Bridge, Charing Cross and Liverpool Street in London.
There will be no trains late on Christmas Eve between Cardiff Central, Bridgend, Newport and the Valleys, for a major re-signalling job.
The shortage of trains means the roads are expected to be busier in coming days, but 450 miles of roadworks are either being finished or removed over the holidays to ease congestion.
Meanwhile, soldiers are on standby to drive rail replacement buses in the worst hit areas of the South East, the BBC has learned.
'No choice'
Analysis: BBC transport correspondent Richard Westcott
They're damned if they do and they're damned if they don't.
Britain's Victorian railway network needs upgrading, but it's very hard to work on something that's in almost constant use, bar a few hours in the middle of the night.
So Network Rail says it has no choice but to get the really disruptive jobs done during the holidays, when the trains are half as busy as normal.
The real problems start when engineering works over-run. Like two years ago, when a catalogue of errors meant two big stations didn't re-open on time, leaving tens of thousands of passengers furious and stranded on the edge of London.
Network Rail says it's learnt from that mistake and has a comprehensive back-up plan.
Airports
Friday is also expected to be the busiest day of the Christmas getaway for airports, according to travel firms' association Abta.
More than 118,000 passengers will be departing from Heathrow, the airport said.
Meanwhile, planned strikes by British Airways cabin crew on Christmas Day and Boxing Day have been suspended.
Staff had been due to walk out in a row over pay and conditions.
Talks at conciliation service Acas led to a revised offer, which will be put to a ballot of union members.
Some UK flights are being affected by the hijacking of a Libyan passenger plane, which made a forced landing in Malta.
Planes flying to Malta are being diverted to the Italian island of Sicily as the airport is closed.
---
Are you travelling to your Christmas destination today? Share your experiences by emailing haveyoursay@bbc.co.uk.
Please include a contact number if you are willing to speak to a BBC journalist. You can also contact us in the following ways: