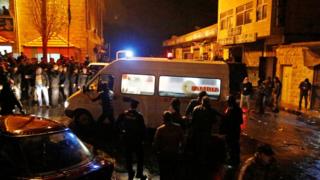 Gun attacks in and near the Jordanian city of Karak have left 10 people dead including a Canadian tourist and at least four police officers.
Unidentified gunmen opened fire on two police patrols before fleeing to an ancient hilltop castle and attacking a police station there, officials say.
Several tourists trapped in the castle were later freed and police were in a stand-off with gunmen as night fell.
No group has admitted carrying out the attacks.
At least 27 people have been wounded, some seriously.
"Police and security forces have surrounded the castle and its vicinity and launched an operation to hunt down the gunmen," a statement by Jordan's public security directorate said.
Jordan's fight against home-grown extremism
Witnesses said shots could still be heard late into the night and security forces fired tear gas to try to flush out the gunmen.
Jordanian officials said events began earlier in the day with a shoot-out between police and armed men at a house near Karak. The gunmen then fled by car into the city.
The security directorate said gunmen had also shot at a security patrol before they reached the castle. Once inside they opened fire on a police station, a statement said.
It is not clear if all the fatalities took place at the castle.
It is also not clear how many tourists were trapped inside Karak's Crusader-era castle.
Footage on social media purportedly from the scene show armed police moving into the sprawling castle complex and helping tourists when shots ring out and they are forced to retreat.
US tourist Avinash Cavale told the BBC he and his wife were arriving by car at the castle when gunfire broke out.
"We were about 20m (60ft) from the castle gate when we started hearing gun fire. There were a lot of different types of firing coming from different directions," he said.
"We were still in the vehicle and just about to get out, so we closed the doors and local folks were yelling at us to get out. The street was very narrow but we reversed down."
Jordan is a close ally of the US and a member of the US-led coalition fighting the so-called Islamic State (IS) group in Syria and Iraq.
US forces have trained a small group of Syrian rebels in Jordan as well as Iraqi and Palestinian security forces.
IS has previously threatened to "break down" Jordan's borders.
In June the group said it was behind a suicide truck-bomb attack that killed six security personnel on the border with Syria.
---
Are you in the area? Have you been affected by what has happened? If it is safe to do so, you can get in touch by emailing haveyoursay@bbc.co.uk.
Please include a contact number if you are willing to speak to a BBC journalist. You can also contact us in the following ways: