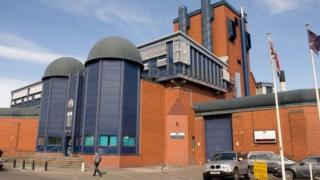 Prison staff have withdrawn from two wings at HMP Birmingham after prison keys were stolen when an officer was "rushed" by inmates.
It is understood that extra staff are on their way to reinforce prison staff and a specialist "Tornado" team of riot officers will be sent in.
G4S, which runs the prison, said that a "low-level incident" was taking place. All staff are accounted for.
The Category B prison, formerly known as Winson Green, holds 1,450 inmates.
West Midlands Ambulance Service was called to the site in Winson Green Road at about 12:25 GMT and at least four ambulances are at the scene.
It is understood the disturbance centres on wings N and P, which hold 250 prisoners, and both have been sealed off.
Alex Cavendish, a former prisoner who is now a prison and crime affairs academic, said trouble flared when lights were broken and inmates took controlled fire hoses.
Officers then started locking prisoners in their cells, but one officer was threatened with a used syringe and another prisoner "came up behind him and snatched the keys from his belt".
Staff then "withdraw to a place of safety", abandoning the wing, as they are directed to do in such situations.
He described the incident as "probably most serious riot in a B category prison since Strangeways went up" in 1990.
'Safe conclusion'
He said he was getting reports of one badly injured prisoner, inmates getting into the offender management unit (OMU) and destroying records and the prison gym being invaded,
All prisoners who are not on the affected wings are believed to be back in their cells, with prison staff awaiting reinforcements before taking control of the other wings.
A G4S spokeswoman said: "We are responding to an ongoing incident at HMP Birmingham this morning which began just after 9am involving two wings of the prison.
"We are in close contact with the National Offender Management Service, and are working with colleagues across the service to bring the incident to a safe conclusion."
A spokesman for the Prison Officers Association (POA) said no staff injuries had been reported.
He said the incident "is another stark warning to the Ministry of Justice [MoJ] that the service is in crisis".