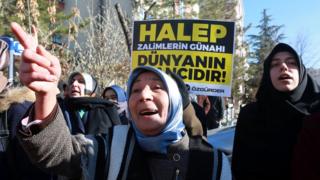 EU leaders are looking to boost security and defence co-operation as they try to tackle crises in Europe's neighbourhood.
They are reacting to the destruction of Aleppo, migrant pressure from Africa and Ukraine's conflict with Russia.
"We are facing multiple crises, with fires in every corner, and not just in Europe's corners," EU Commission President Jean-Claude Juncker said.
One such corner is Turkey, struggling with 2.7 million Syrian refugees.
The EU sees its controversial March 2016 deal with Turkey as a model for similar deals in Africa.
Since March the numbers of migrants coming ashore in Greece has fallen dramatically but Turkey accuses the EU of blocking its EU ambitions and failing to meet financial pledges.
Other stories:
Meanwhile, Italy says record numbers of African migrants reached its shores this year. Nigeria and Eritrea are the top countries of origin. Dire poverty drives many towards Europe.
'Denounce the massacres'
On arrival at the Brussels summit, French President Francois Hollande condemned the bombing of civilians besieged in eastern Aleppo by Syrian government troops backed by Russian forces.
He said a civilian corridor must be created to let desperate men, women and children escape the bombing, and to get the wounded to nearby first aid facilities.
"Europe must make its voice heard… it must denounce the massacres," he said.
EU foreign affairs chief Federica Mogherini also urged the Syrian government to stop the bombing and called for a "true political transition in Damascus". Change in Syria had to be "inclusive for the country – it cannot be built on the ruins of Aleppo or other cities", she said.
Russia's military assertiveness is among the many issues on the table in Brussels. The EU's Baltic members – Estonia, Latvia and Lithuania – are among those urging closer EU defence ties with Nato.
Russia has stepped up its Baltic air patrols and military presence in the strategic Kaliningrad region.
The EU plans to forge ahead with Nato in some key areas, including maritime security and joint exercises and tackling "hybrid threats" such as cyber attacks.
Nato Secretary General Jens Stoltenberg will brief the 28 leaders on those ambitions.
The EU Commission has put forward a "European Defence Action Plan", envisaging much more pooling of EU defence capabilities.
According to the draft summit conclusions, this defence roadmap will be developed speedily next year.
The Commission says European defence is too fragmented and wasteful, and complains that the EU has 19 types of armoured infantry fighting vehicle, compared with one in the US.
The UK has warned that joint EU military efforts must not duplicate Nato and it is strongly opposed to any idea of a European army.
Such a prospect is not on the table but closer military co-operation is, in the run-up to the UK's Brexit negotiations.
An added worry for the EU is US President-elect Donald Trump's warning that Europe must spend more on defence. Some EU countries fall short of Nato targets for defence spending.
The Commission points out that the "EU's security situation has deteriorated significantly".
Since Russia's annexation of Ukraine's Crimea region in 2014, the EU has ratcheted up sanctions against Russia and watched tensions in the Baltic with growing alarm.
The EU leaders will discuss the far-reaching EU-Ukraine Association Agreement, which has been put on hold since a Dutch referendum in April, when Dutch voters rejected it.
An EU deal is needed to break the impasse, as the Dutch government is worried about any long-term EU commitment to bring Ukraine into the bloc or to give Ukraine defence assistance.
The leaders do not plan to modify the agreement but legally binding words may be found to satisfy the Netherlands.