For many, playing or coaching with a parent can be a privilege or even a goal that may never happen.
But for a coaching duo on the Northern Arizona football squad, it's just life.
Robin and Aaron Pflugrad are entering their first season coaching football together as a father-son duo after Aaron was promoted to offensive coordinator with his father being brought on as wide receivers coach this past spring.
While the idea of coaching together is new, the two have had plenty of time to develop a professional relationship.
For Aaron and Robin, there hasn't been much of an adjustment period that some would expect to happen.
"It's been great. We talk about this football team as a family and to have family out here everyday, it's a great deal," Aaron said after practice on Wednesday.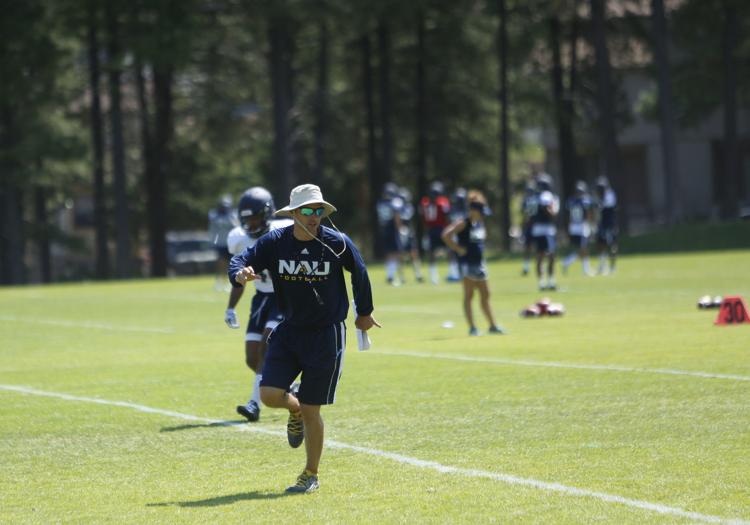 "When you are in the same profession as your father and to be on the same staff, it makes it that much more rewarding as opposed to 'Hey, how did your game go? How did practice go?' But instead having that experience together," Aaron added.
The elder Pflugrad coached at Oregon as a wide receivers coach from 2006-2008 and during that time, Aaron spent his first two years of college football fighting for playing time at wide receiver on the Ducks roster.
"Well, I think there was a time where, as a player, Aaron really had to prove himself maybe more than anyone else in our unit and he went out and did that and got to play extremely early in his freshman year," Robin said.
"So, I think he has built his career around those challenges. Ccredit to him for doing that and it's a part of that family atmosphere," Robin added.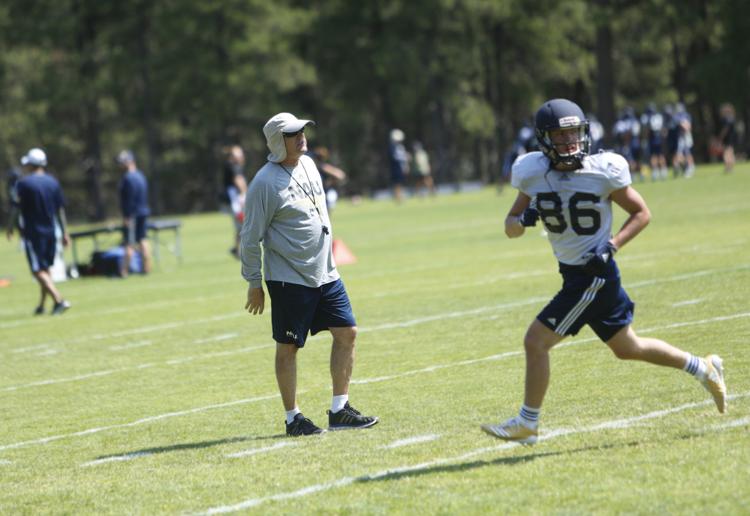 Aaron would go on to finish his college career at Arizona State while Robin ended up in Missoula as the head coach at Montana in the 2010 and 2011 seasons.
"After that experience and having that in college, you're pretty much used to that and being able to separate football from the off-the-field stuff," Aaron said.
The experience of working together at Oregon led the two to quickly learn how to separate the on-the-field grind of football while still having time as father and son.
Even more than playing for his dad in college, growing up as a coach's son, Aaron said he got the chance to be around his dad and football nearly all the time. From going to practices to games, the football lifestyle the two share has become the norm.
Finding time to spend together during football season isn't the most feasible thing because of the everyday grind that comes with a college football season. So the two understand that professionalism and the job come first.
"We both approach it very professionally and we understand that it is obviously the job first and if there is any quality time that we can spend together maybe away from the Dome, it's short and sweet because it is football season," Robin said.
Early on, when Aaron had been recently brought on to the coaching staff at Northern Arizona and his dad was coaching at Phoenix College, he and his dad had opportunities to work together in another manner.
This time, Aaron was looking for talent in the Valley and Phoenix College was one of the stops on the recruiting trail.
Now, the two find themselves in an uncommon position with Aaron as the offensive coordinator and Robin a part of the offensive staff as the wide receivers coach. The unorthodox pairing is a little surprising to Aaron, who said that this isn't something he really expected to happen.
"No, not at all," Aaron said while laughing.