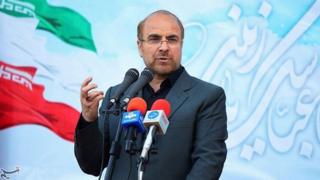 Tehran's hardline mayor, Mohammad Baqer Qalibaf, has withdrawn from Iran's presidential election.
Mr Qalibaf called on his supporters to back fellow hardliner Ebrahim Raisi against the incumbent Hassan Rouhani, a moderate who is seeking a second term.
A victory for Mr Raisi on Friday is vital for "the preservation of the interests of the people, the revolution and the country", he warned.
Mr Qalibaf had been under pressure from the clerical establishment to drop out.
Hardliners reportedly feared the anti-Rouhani vote would be split and make a second round run-off more likely.
In the last election in 2013, the former Revolutionary Guards commander and police chief came a distant second to Mr Rouhani with 16.5% of the vote.