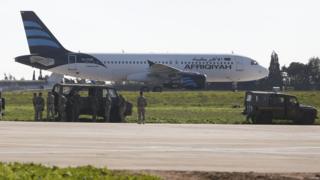 A stand-off is under way at Malta International Airport where a Libyan jet carrying 118 people landed after being hijacked on a domestic route.
The Airbus A320 was flying inside Libya for Afriqiyah Airways when it was diverted.
At least one man claiming to have a hand grenade threatened to blow up the plane, according to local reports.
Maltese Prime Minister Joseph Muscat said that his country's security forces were standing by.
It is unclear what the demands are being made by the hijacker. Some media say there is more than one hijacker.
The mayor of Sebha in Libya, Colonel Hamed Al-Khayali, told the BBC there were 111 passengers on board the flight plus seven crew members.
Mr Muscat said on Twitter that the passengers list included 82 men, 28 women and one baby.
Col Al-Khayali said the plane had left Sebha's Tmenhant military airport at 11:05 local time for Tripoli.
"It was hijacked and investigations are continuing to establish how any explosives or weapons made it on board," he said.
He added that security at Tmenhant was poor, with a distance of 5km (3.1 miles) travel between the airport building and planes.
"That is an open space and it is possible that along that route something was smuggled on board," he said.
The deputy mayor for Lija in Malta, Madga Magri Naudi, told the BBC that paramedics and soldiers were standing by to see "what the next step is".
A special committee meeting was taking place to address the situation, she added.
In the meantime, Malta International Airport has been closed and all flights have been diverted.
The airport said emergency teams had been dispatched.
---
Are you in the affected area? Get in touch and email haveyoursay@bbc.co.uk.
If you are available to talk to a BBC journalist, please include a telephone number.
Email your pictures to yourpics@bbc.co.uk, upload them here, tweet them to @BBC_HaveYourSay or text +44 7624 800 100.
Or WhatsApp us on +44 7525 900971.
Read our terms and conditions.