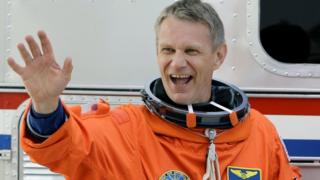 British-born astronaut Piers Sellers has died of pancreatic cancer, aged 61, Nasa has said.
Born in Crowborough, East Sussex, Dr Sellers began working for the US space agency as a scientist in 1982 before joining its astronaut corps in 1996.
The climate expert made three Space Shuttle flights to the International Space Station, between 2002 and 2010.
Nasa said Dr Sellers, who was diagnosed with stage four pancreatic cancer in 2015, died in Houston on Friday.
He became a naturalised US citizen in 1991, making him eligible for the space programme.
In January this year, he wrote a op-ed article for the New York Times about grappling with the meaning of the earth's fragility after learning he had terminal cancer.
He later shared an astronaut's perspective on climate change in Leonardo DiCaprio's documentary, Before the Flood.
The seven Britons to go into space
In a statement, Nasa administrator Charles Bolden paid tribute to Dr Sellers, the deputy director of the agency's sciences and exploration division in Greenbelt, Maryland.
"Piers was dedicated to all facets of exploration," he said.
"His curiosity and drive to uncover new knowledge was generously shared with audiences around the world, both from space and in wide travels to reach as many people as possible with an essential understanding of our fragile planet."
Six spacewalks
Dr Sellers earned a degree in ecology from the University of Edinburgh and a doctorate in biometerology from University of Leeds before moving to the US.
In 2002, he became only the third Briton to go into space – after Helen Sharman and Michael Foale – when he completed an 11-day mission to the International Space Station.
His journey aboard the shuttle Atlantis saw him carry out three spacewalks to help continue the assembly of the ISS.
Dr Sellers' next flight was aboard Discovery in 2006, a mission designed to test improved safety measures following the 2003 Columbia disaster, in which seven astronauts died.
In May 2010, Dr Sellers boarded Atlantis for a second time to deliver a Russian-built module to the space station.
In total, he logged hundreds of hours in space on his three shuttle flights, including six spacewalks, according to his Nasa biography.
In 2011, he was appointed an OBE in the Queen's New Year's Honours List.
In July this year, Dr Sellers was awarded Nasa's Distinguished Service Medal, the agency's highest honour.