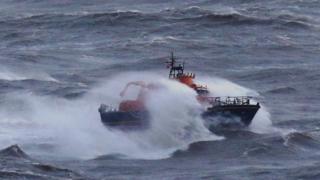 People travelling for Christmas are being warned to expect disruption as Storm Barbara approaches the UK.
The Met Office said the worst of the weather was expected on Friday and Saturday with gusts of up to 90mph forecast in parts of Scotland.
The Met Office has issued an amber weather warning for northernmost Scotland, meaning "be prepared".
Pockets of Northern Ireland, north Wales and the north of England are also due to feel Barbara's force.
Grahame Madge, spokesman for the Met Office, said: "We have had the good fortune to be able to issue the weather warnings ahead of Storm Barbara coming, with plenty of time hopefully for people to change their plans if they need to.
"But the nature of the storm means it still has the potential to have an impact on power supplies, structures, and disrupt bridge and ferry crossings."
Scottish and Southern Electricity Networks said it was moving engineers to areas it expected to be hit by the storm, whilst Northern Powergrid said it was bringing in extra engineers in case of any issues.
Keep up to date with traffic and weather news on the BBC:
Storm Barbara has been named in line with the Met Office's alphabetical policy of naming storms when they are deemed to have the potential to cause a substantial impact in the UK or Republic of Ireland.
Barbara is only the second name designated this season, which began on October 1, and follows Storm Angus, which brought high winds and heavy rains to parts of Britain in November.
Festive getaway
The storm comes as rail travel is already being affected across the country because of strikes and 200 incidents of scheduled engineering works.
Although the next strike day is not planned until New Year's Eve, Southern Rail has warned of disruption "every day" because of an ongoing overtime ban from the ASLEF and RMT unions.
Elsewhere, major disruptions include:
All lines will be closed between London Paddington and Ealing Broadway between 24 and 29 December
As a result of this there will be no trains to or from London Paddington, including Heathrow Connect and Heathrow Express services
Arriva Trains Wales services between Manchester Piccadilly and Warrington Bank Quay will be replaced by buses
Manchester Oxford Road and Deansgate stations will be closed to trains on 27 December and from 31 December to 2 January
Northern trains between Manchester Airport, Blackpool North and Barrow-in-Furness are being diverted, running from Manchester Victoria instead
Although industrial action by baggage handlers has been cancelled, British Airways cabin crew are still planning to strike on Christmas Day and Boxing Day.
Scottish Transport Minister Humza Yousaf told BBC Scotland the government was working with agencies to do everything possible to help people travel safely.
He said: "Ferries are particularly susceptible to disruption due to high winds and we may also see some disruption to flights.
"Those planning to fly or use ferries this festive period should check with their operators for the latest information and consider the forecast as part of their plans."
'Slow down'
Friday is also expected to be the busiest day on the road for the Christmas rush, with traffic information company Inrix saying some journeys may take up to three times as long compared with other times of the year.
It predicts the worst affected routes will be:
M25 Reigate to M40 junction 16
A4 Earl's Court to M4 Reading
M5 Thornbury to Weston-s-Mare
M6 Stoke North to Warrington
M60 Carrington to M62 Rochdale
Highways England warned drivers to be prepared.
A spokesman said: "Many people will be planning long journeys over the next few days to see friends and relatives during Christmas but it's vital they slow down during stormy weather.
"Rain makes it harder for tyres to grip the road and harder for drivers to see ahead – significantly increasing the chances of being involved in a crash."