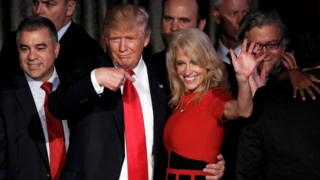 Donald Trump has appointed key adviser Kellyanne Conway as counsellor to the president.
The US president-elect said Ms Conway, who was his third campaign manager, had "played a crucial role in my victory".
"She is a tireless and tenacious advocate of my agenda and has amazing insights on how to effectively communicate our message," he said.
Ms Conway, who is a regular on television news programmes, joined the campaign in August.
The 49-year-old Republican strategist had previously suggested her other role as mother to four young children might deter her from taking on a high-level White House job.
"Mom of four is not [in] most job descriptions," she tweeted earlier this month.
Ms Conway, a veteran pollster, was credited with helping to steady the Trump campaign after a 2005 video leaked to the media in which the businessman was heard making obscene comments about women.
"I want to thank the President-elect for this amazing opportunity," Ms Conway – who has been dubbed the "Trump whisperer" – said in a transition team statement.
"A Trump presidency will bring real change to Washington and to Americans across this great nation."